After crossing the Coronado Bay Bridge, you have landed in the Coronado Village, the hub of the city of Coronado, and the largest of three sub-communities within Coronado.

Offering such a comfortable and complete mode of living, the Coronado Village may make it difficult for you to cross back over the bridge.  In fact, it's a joke between residents of what a "chore" it is to go over the bridge and leave the resort-like feel of the island behind.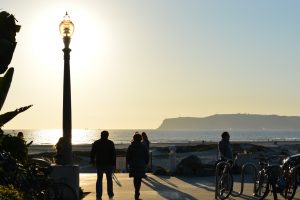 As a Coronado resident, I most enjoy the strong family-values that pervade across the Village community.  The Coronado Unified School District boasts consistent API scores into the 900's and there are well-attended community events throughout the entire year.
Coronado Village boasts city blocks that are intelligently and elegantly planned.  The streets are clean and beautifully maintained.  Dining and entertainment options abound.  There is a general feeling of peace and safety that pervades here.
The Coronado Village neighborhood must be experienced to really be understood and appreciated, and there are unique "living zones" within the Coronado Village that offer differing levels of quiet, access and affordability.
Let Jamie Tuckey guide you through the Coronado Village real estate market:
Or start your search into Coronado Village real estate listings:
Or look further into live Coronado Village real estate statistics:
READY TO BUY OR SELL A PROPERTY?